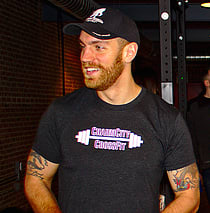 Nick Sekscenski
Why did you start CrossFit? And When?
I started following CrossFit main site WODs around 2012 while working at a global gym as a way to change up my workouts and break out of a dull routine.
Favorite WOD and why?
I like most heavier weightlifting (lots of squats and deadlifts) or really fast paced paced gymnastic WODs with handstand pushups or pull ups. The benchmark WOD "Diane" is a favorite.
Favorite Movement to Teach?
Either the deadlift or the squat because they both translate into daily life SO much.
Favorite Client or Athlete Memory?
I had a client who had been training for about 6 months and was frustrated because she wasn't losing weight as she wanted to. I had to remind her that muscle weighs more than fat, finally I convinced her to retest her measurements and body fat. She had lost several inches all over her body and dropped over 6% BF. We were both ecstatic at her progress!
Life/Fitness Mantra
Before - No way! I can't do that.
During - Oh man I am never doing this again.
After - Eh that wasn't so bad I bet I can do better next time.
Training Specialty
Personal Training/CrossFit